How do I know if I am candidate for this program
If you have a desire to own verses renting and believe in the American Dream then you are a good candidate. We seek out people who want to improve their lives by way of home ownership. You also have to have the option fee which is generally $2,000 to $4,000. This fee is subtracted from the sales price of the home.
Are there any additional costs other than the option fee and the monthly payment
Yes – It is called taking pride in your neighborhood and community. You are expected to give back to the community which is giving to you. This cost is not measurable in dollars but rather in emotions and good feelings. Plant flowers, improve the curb appeal of your home, and lend a hand to a neighbor in need.
Do you charge an enrollment/application fee like many of the other lease to own companies do
]No. We do not charge any enrollment, membership, or application fee. Many of the companies that ask for these type fees may be trying to get your personal information or a fee for nothing. You only put money down with our plan if you want the home. This is another common sense reason you need to deal with us.
How soon before I can turn my home investment into cash?
That depends on the market. If you're in this for a quick buck then you are probably in it for the wrong reasons. You are buying a home not a stock or bond. However, as time passes and you start to climb the mountain you will be able to look down and see what you left behind. This upward mobility will allow you to create equity in your home, write off your interest on your income taxes, write off your property taxes, and gain the respect of your friends and family.
What exactly do you do?
We help those good people that want to help themselves. If someone is motivated to find a way to purchase the American dream we want to help him or her accomplish that dream. We match people with houses. Our program is not magic. You do have to have some money to put down but it is minimal. And once you are in the program as long as you pay on time you end up owning the home.
How do you help?
We allow folks to get that second or third chance even if others have given up on them. We allow you to purchase a home with no qualifying and guaranteed financing for little money down. We generally are able to look the other way on bankruptcies, foreclosures, bad school loans and other credit issues as long as you have learned your lesson and have the option fee. We want you to be able to have the American dream and own a house.
How much is little money down?
In most cases it is between $2,900 and $3,900. We call this an "option fee". If you don't have that in savings it is low enough where many times you can borrow it from your 401K, parents, family or friends. The option fee is subtracted out of the predetermined sales price.
What do you mean by easy qualifying?
It is the real deal. If you have the money and a good attitude, make 3 times the rent, and have good rental history you get the house. It sounds too good to be true but it is really pretty simple. We get enough money down where even if you don't pay as agreed it gives us cushion to get you out. Our exposure to loss is very minimal. In the over 300 deals we have done we have taken a loss very few times. We have found people are inherently good and want to do the right thing.
What do you mean by guaranteed financing?
Most of our option agreements with our resident/buyers give them the opportunity to purchase the home for a predetermined price for three years. You have an "option" to purchase it for that amount of time. At any time during that three years you can get your own loan or at the end of the three years provided you have never been more than 25 days late with us we finance it for you. We put it all in writing and do what we say. Our mortgages are straight 30 year loans, with no balloons, and best of all no prepayment penalties. Our interest rates are on the high side currently at 8.75% but at least you know you can't lose the home due to bad credit. And best of all you can always refinance if your situation improves. In fact, we work with you to get loans outside of our company as we would rather have the money and not the note.
How many years have you been doing this?
We have been helping people get homes with our "Rent-to-own" program for over 25 years. We have assisted several hundred families get their first homes.
What happens if you pass away or something happens to you before we complete the program? Do we still get to buy the home as you promised?
Yes, all the paperwork has wording it that my heirs have to abide by the contracts. They have no choice. You are covered on that end. However, I am healthy and there is a plan in place where my son takes over if something happens to me. You are well protected.
Do you provide references?
Yes. As I said we have helped over one hundred local families buy a house. Please refer to our Program Testimonial Section. If you would like we can put you in actual touch with literally Two hundred middle Tennessee families that have completed our program. Word of mouth and good references are our main source of advertising.
Is this a for profit venture?
Yes. While we have deep seated ethical principles we adhere to we are in this to make money. We literally make offers for cash on 75 homes for every one we do purchase. This allows us to make a fair profit for the homes we sell. We do buy cheap but generally buy homes from banks, mortgage companies and the government and not from individuals. That way we do not put ourselves in that conflict of interest situation of trying to beat down an individual buyer to his or her lowest price.
How is your Rent-to-own program different from all the others?
There are two quick answers to this one. We strive to follow the "Golden Rule" and we also guarantee the financing. If someone is in the situation where they are participating in a "Rent-to-own" program the chances are he or she does not have good credit. To take that prospect's option fee and then not guarantee some sort of financing is not something we could do and sleep at night. However, many operators do and that is why you need to deal with us and not our competitors. We expect you to check us out as closely as we check you out.
Does any of my rent go toward my home purchase?
Yes – Generally we allow $200 per month for the first 12 months (capped at $2,400) to be applied toward the home purchase. We cap it after 12 months because this is when we generally start trying to help you communicate with mortgage companies and get serious about getting a loan.
Who performs the maintenance after I move in but before I actually get my loan and purchase the house?
Most of our homes are under warranty for the first 3-4 months. Since these homes are newer we assume that if there is a problem you will know about it in the first few weeks. We therefore extend that period to several months to give you plenty of time to make us aware. We go to great lengths to make sure our homes are in good market ready condition when you take possession so seldom is an issue. After the warranty period expires it is your responsibility to do the maintenance.
What areas to you specialize in?
Obviously middle Tennessee and specifically Antioch, LaVergne, Smyrna, and Murfreesboro. We choose these areas based on pricing models, good schools, lower crime rates, and job availability. We like to do Rent to own homes in Lake Forrest and other nice areas of LaVergne. We also do lease options in Smyrna, Murfreesboro, and Antioch. Occasionally, we do a Rent 2 own program in Mt. Juliet, Hermitage, Madison, and other Nashville areas. We never operate in the higher priced areas such as Franklin, Bellevue, West End, Green Hills, etc. We provide only quality affordable housing.
Can I have a dog or cat?
Yes. We are very pet friendly. It will be your house so you can have dogs (except vicious breeds) cats, or any other pet you like.
Can I make additional improvements before I legally own the home?
Yes. We want you to make property feel like "home". The only thing to remind you is that you cannot make improvements and then take them with you. A privacy fence would be a good example.
If I find a home for sale will you buy it for me and let me rent it back from you?
Theoretically, yes but we have never been able to make this actually work. The reason is we make so many offers and buy homes so cheap the probability that the home you found will not fit our purchase model. It just doesn't work so it's better if you don't even ask.
Do you ever get a home on several acres of land in the country?
Almost never. We deal in nice starter homes that are in subdivisions and generally on 1/3 to 1/2 acre lots.
We see you have a mascot Molley in most of your videos. How does he rate into the program?
Molley is my long term mascot and a true companion. She has been with me doing this for 15 years. It's corny but I really love that dog. As I said above we are pet friendly.
What are the advantages of doing a Carter Rent To Own verses just renting and hoping to buy later?
You get into the home for less money than you would going the conventional route with a lot less hassle. If your credit is bad – this program gives you the time to clean up all your credit issues. If you have no credit – this program gives you a paper trail. And with us you know exactly what you buy – no surprises.
How can I lock in a "Home Available Soon" and not lose money if it is not what I expected?
We offer a "Right of first Refusal" agreement to folks that are serious about a future home. In a nutshell you put down $500 and I provide you with paperwork saying that you are first in line to get the home. It also goes on to say if you should change your mind before you actually see the home you get all your money back. Generally the fee for this is $500 and as I said it is totally refundable until you get in and see the house and make up your mind.
Download the form for "Right of First Refusal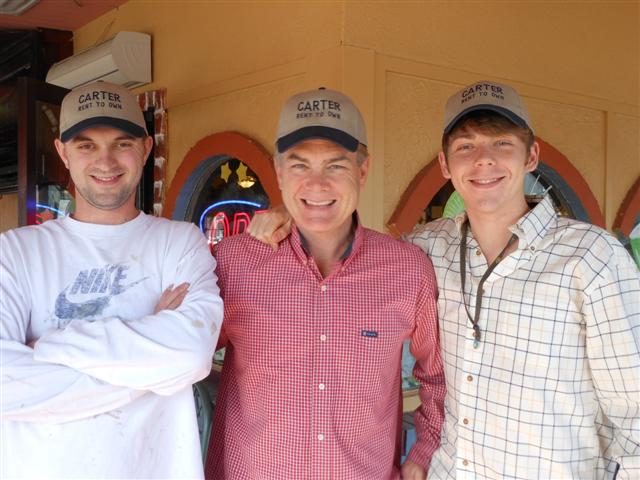 Carter Rent to own providing Rent to Own housing in Antioch, Rent to Own housing in LaVergne, Rent To Own housing in Murfreesboro and other middle Tennessee areas since 1985